Pamela Mordecai's first poem, written when she was nine, was about a hurricane that hit the island of Jamaica in that year. She was born and raised there, "going to the nuns" at age four and leaving them at age twenty-one. Returning to Jamaica after college, she taught, became involved in theatre and modern dance and began writing seriously. She went to the University of the West Indies to do two teaching degrees and, eventually, a PhD.

Pamela has been a teacher, a trainer of teachers, a TV host, a writer-researcher, an editor, a book packager and a publisher. She has written newspaper editorials; dance criticism; textbooks; critical articles on Caribbean literature; studies on Caribbean culture, education, and publishing; poems and stories for children; and poems and long and short fiction for adults.

Journey Poem, her first collection of poetry, was published by Sandberry Press in 1989. de Man: a performance poem, an eyewitness account of the crucifixion of Jesus Christ written in Jamaican Creole and published by Sister Vision Press in 1995, continues to be performed in Canada and the Caribbean—most recently in Norris Point, Newfoundland in 2012, and Kitchener, Ontario in 2014. Certifiable: Poems was published in 2001 by Goose Lane Editions. In 2001, Greenwood Press also published the reference work Culture and Customs of Jamaica in their Culture and Customs series; it was edited by Peter Standish and co-written with her husband, Martin. The True Blue of Islands, which appeared in 2005, is a collection of poems dedicated to her brother, Richard, who was murdered in Jamaica in 2004.

Pink Icing: stories, a collection of prose fiction, was published by Insomniac Press in 2006. It received excellent reviews in Canada, the US and the Caribbean. Her fifth collection of poems, Subversive Sonnets, was released by TSAR Press in September 2012, and her sixth, de book of Mary: a performance poem, by Mawenzi House in 2015. Also in 2015, TAP Books/Dundurn published her first novel, Red Jacket, which was shortlisted for the Rogers Writers' Trust Fiction Prize, one of Canada's top three prizes for fiction.

Pamela, her husband and three children migrated to Canada in 1993. She lives in Kitchener, Ontario.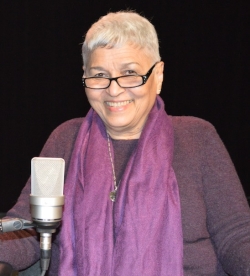 Video Collection
In March 2015, over a period of one week, Pamela read from her collection of poetry creating an ever-lasting testament of her work. Produced by CITL's Media Services unit at Memorial University, this collection comprises books chosen by Pamela. Executive producer of this project, Dr. Stephanie McKenzie (Associate Professor, English Program, Grenfell Campus, Memorial University), initiated this undertaking. Funding was provided by the Digital Library of the Caribbean; the Ferriss Hodgett Library, Grenfell Campus, Memorial University; Grenfell International, Grenfell Campus, Memorial University; and the Quick Start Fund for Public Engagement at St. John's Campus, Memorial University. CITL provided its production services as a gift in-kind. CITL (formerly DELTS) production credits include Adrian Collins (Producer); Mark Shallow, Ryan Stratton, Phillip Cairns (Production Technologists); Paul Hayward (Video Editor); and Benjy Kean (Multimedia Specialist).

This video collection is being shared with the world under a Creative Commons License. Please contact Donna Downey, Manager, Media Services, CITL, for more information. 709-864-4061 donnad@mun.ca